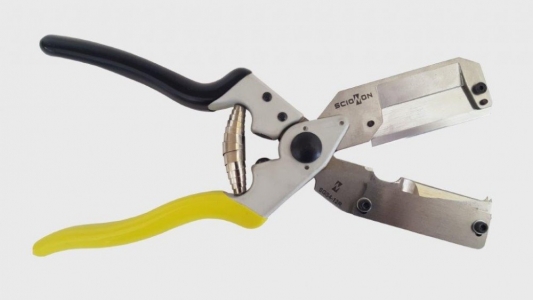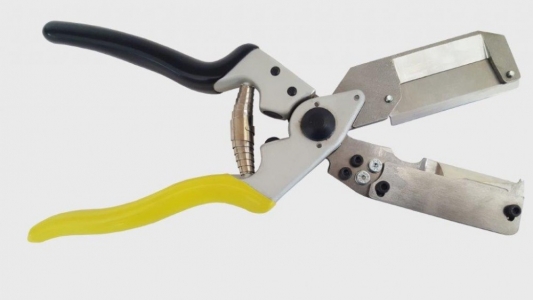 Hand Held Grafting Shears
Item Code : SGS4-12R
The SGS4-12R is a new slim jaw upgrade of model SGS1-13R. Based on the original model Scionon Grafting Shears, it was introduced in 2019 as an option for grafters that need a tool to use when container grafting. The new slim jaw with a solid spacer plate minimises debris build up in the jaw allowing for easier cleaning without disassemly. Now with a jaw opening of at least 70mm, it is also suitable for container grafting of ornamental plants at low level.
This model is suited to preparing cleft, rind, wedge, whip & tongue grafts and the preparation of chip & 'T' buds in material of 3mm to 13mm in diameter. Skilled users will also be able to cut bigger material if required.
Supplied with adjustment tools and 2 spare SGS18 cutting blades.
Spare blade packs and an optioanal leather carry/ storage pouch are also available.
NB: A limited supply of a 'new look' upgrade of model SGS1-13R is currently available from Scionon New Zealand while the older model is phased out and the new model SGS4-12R is introduced. Distributors now only received the new model SGS4-12R.
The 'new look slim jaw' will be introduced accross the Scionon Grafting Shears product range in 2020.