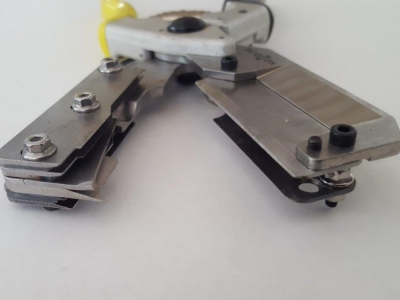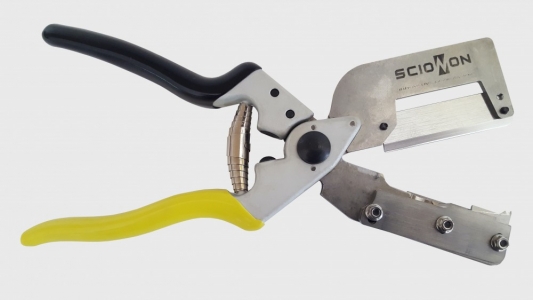 Hand Held Grafting Shears
Item Code : SGS4-20R
The SGS4-20R is a new slim jaw version originally intended to replaced the discontined model SGK3-19R. This model will also now substitute for the older model SGM5-22R. That model was initially introduced as an option for customers that required a tool to use when predominantly grafing medium to large diameters.
Model SGS4-20R has been upgraded and is lighter in the hand.
The new slim jaw with a solid spacer plate minimises debris build up in the jaw allowing for easier cleaning without disassemly. Now with a jaw opening of at least 75mm, it is also suitable for preparing whip & tongue and cleft grafts in larger material and for container graftinrg. The addition of a second grip plate as present on model SGM5-22R ensures material is securely held when working with the larger 15mm - 20mm diameter range.
Model SGS4-20R is suited for preparing cleft, rind, wedge, whip & tongue grafts and the preparation of chip & 'T' buds in material of 8mm - 20mm in diameter. Skilled users will now be able to also prepare kerf grafts when the jaw is fitted with an optional kerf grafting blade kit (pictured).
Supplied with adjustment tools and 2 spare SGS18 cutting blades.
Spare blade packs and an optioanal leather carry/ storage pouch are also available.
NB: Model SGS4-20R is currently only available in New Zealand and will be supplied to Scionon distributor partners in 2021. Stocks of models SGM5-22R & SGS5-21R are still currently availible through Scionon Europe and Scionon distributor partners throughout Europe and North America.